Hello everyone!  We've been enjoying some delightful sunny weather, although today was grey and dreary.  I spent most of it inside at the computer, but before the skies turned, I was able to snap a couple of shots of pretty plants from the garden this week:
I want to write today about plants that have colorful foliage in the summer months.
As you know, the foliage on a plant typically stays vibrant for much longer than the flowers, and so it's a great idea to add some of these colorful foliage plants to the garden to extend the excitement throughout the growing season. These types of plants have many applications in the garden—they can be added to mixed borders to both lengthen the color season as well as provide some low-maintenance plant options, or they can be used in containers and grouped for dramatic presentations.
Here are my 8 top favorite picks for summer foliage plants, all of which I grow in my garden.
1.  Anthriscus, Cow Parsley :  (Anthriscus silvestris 'Ravenswing', zone 6-10, average to dry soil, full sun.  Size:  Although listed as reaching 2-2 1/2 feet tall and 2 feet wide, it is much larger in my garden–more like 3 1/2-4 feet tall and easily 3 feet wide.)
This is one of the showiest and most unusual-looking perennials that I grow.  It looks like a Queen Anne's Lace, only the foliage and stems are a deep chocolate color.  The white flowers appear about the same time as the roses start to bloom in my garden, and they look nice together.  The foliage puts in an appearance as well in early spring, and makes a great backdrop for blooming spring bulbs.  In many years, the foliage stays around for the winter, but that will depend on how cold it gets in your garden.
Anthriscus foliage with bulbs in mid-April
2.  Spiderwort  (Tradescantia 'Sweet Kate', zone 4-9, well-drained soil, full sun to part shade.  Size:  12 inches tall by 15 inches wide)
This is a favorite perennial of mine.  I have 'Sweet Kate' growing at the feet of a large clematis 'Jackmanii'.  They each have their own root space, so the large clematis vine does not take all the nutrients and water from the soil away from the smaller perennial, and they have been getting along together very well for several years.  This dies back almost all the way to the ground each year, but every early spring it comes back with that wonderful chartreuse foliage, which it keeps until fall, and then in the late spring you get those bright purple flowers, off and on for much of the summer.  It's a party in one compact plant!
3.  Leadwort (Ceratostigma plumbaginoides, zone 5-9, tolerates clay soil–thank goodness–that's all we have here!, full sun to part shade.  Size:  12-15 inches tall and wide)
Plumbago foliage (on the sidewalk) in June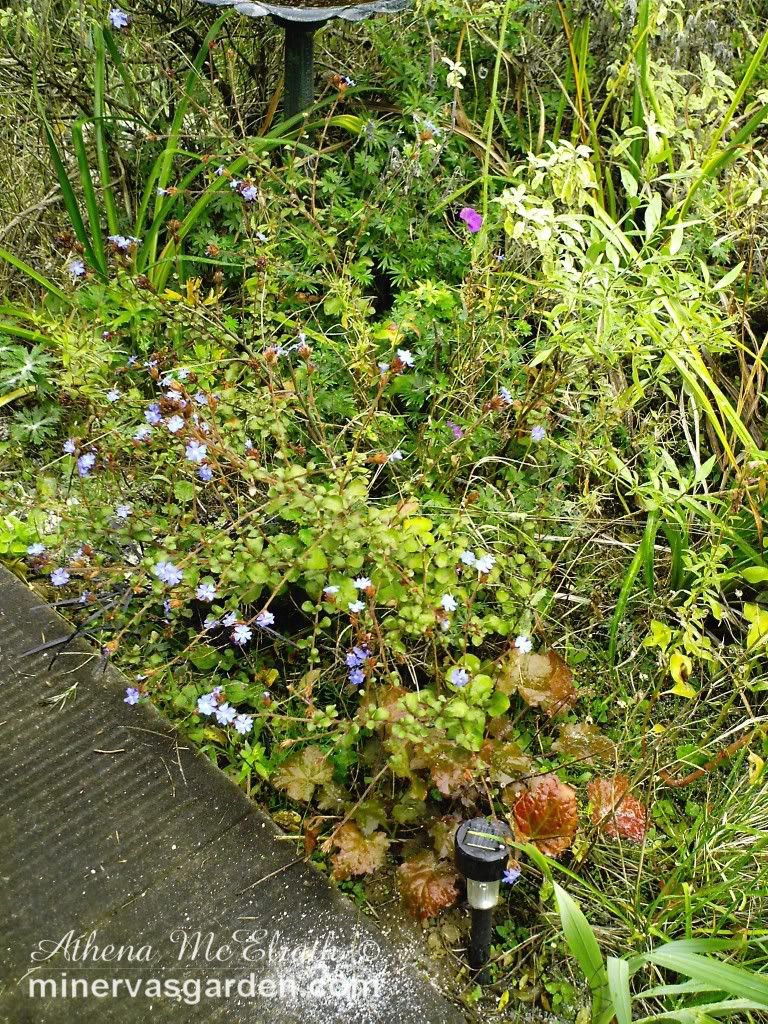 Leadwort in October in my garden
This perennial was one that took me a long time to get in exactly the right spot in my garden–I moved this poor thing probably four times before it found its current home at the edge of the walkway that leads to our back door.  It's been pretty happy here.  It is a smaller plant, so great for the front of the border.  It tends to die back almost all the way in the winter, but in early spring the leaves begin to appear.  In late spring and throughout the summer the small leaves offer lovely burgundy that turns to green foliage that looks nice next to strappy leaves of daylily, and it also shares garden space with a couple of hardy geranium that bloom off and on throughout the summer.  But, in addition to this wonderful foliage, you get flowers very late in the season, September into November for me, in the most brilliant shade of blue–gorgeous!
4.  Black Mondo Grass (Ophiopogon planiscapus 'Nigrescens', zone 6-11, moist but well-drained soil, full sun to part shade.  Size:  small–6-8 inches tall and clumping)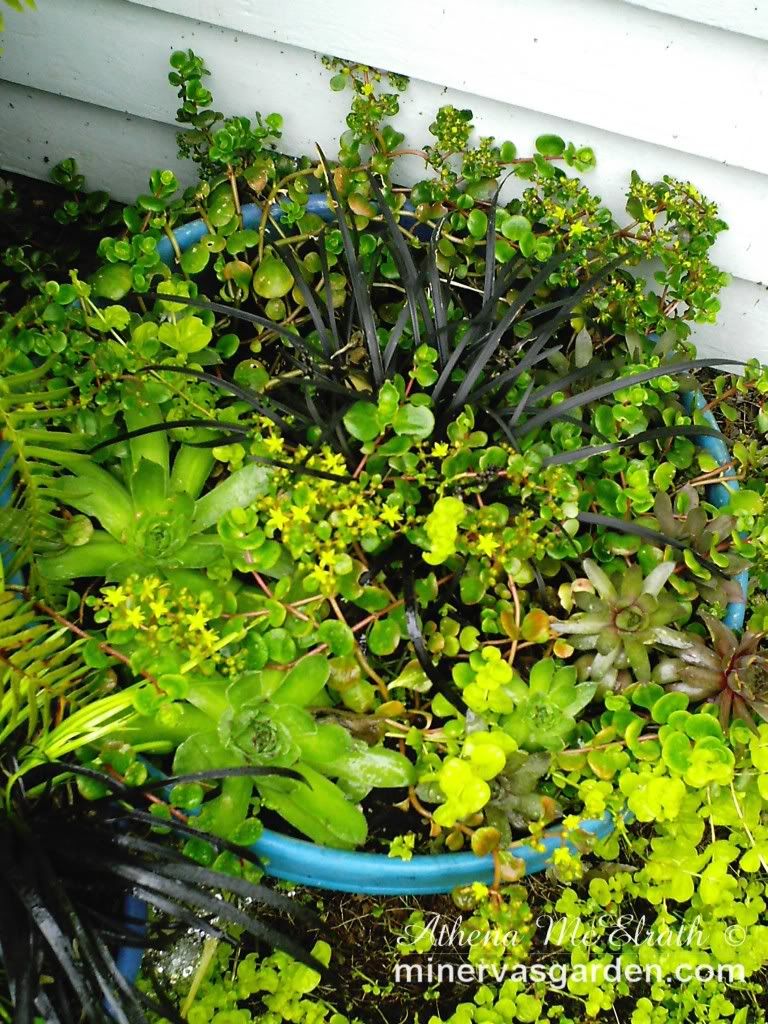 This was growing in our garden when we purchased our home several years ago, and I really like this plant.  Technically, it is a grass-like perennial in the lily family, and sometimes goes by the name of lilyturf.  It offers truly black foliage, keeps its color all year and it is easy to grow.  If you use it in a border, put it right at the front or it will get lost in the mix of all the other plants.  I love it in containers, especially when paired with succulents like Hens and Chicks, or in a hanging basket, especially with white or light-colored partners.  My mother, who grew up in Mobile, Alabama, tells me that the old beautiful homes in Mobile often had this perennial, which also sometimes goes by the name monkey grass, paired with beautiful, colorful caladium leaves, (Mom says you should try 'Freida Hemple', a gorgeous pink mottled leaf with a green edge, along with 'White Christmas', white with green edge, and 'Florida cardinal' caladium, which has a really deep red center and green edge for a glorious caladium combination), and tall red salvia behind all of this lining the driveways to the large houses, and that it was just stunning.  In mild climates it's evergreen, and it tends to spread by runners, but has not been invasive at all in my garden.
5.  Sage (Salvia officinalis 'Aurea' and 'Purpurascens', zone 6-9, dry to average soil, full sun.  Size:  1 to 1 1/2 feet tall and 2 feet wide)
Salvia officinalis 'Aurea', also known as Variegated sage, serving as a backdrop here to daylily 'Fall Farewell.'
Good old sage–what's not to like about this plant?  It is super easy to grow, in mild climates looks good all year round, offers a variety of boldly colored leaves, and you can eat it!  If it is happy with the growing conditions, it can get very large in spread, so you will want to prune it back so it doesn't get lanky.  I actually lost one of mine this last winter; we had a ton of rain, even for the Pacific Northwest, and it must have gotten root rot and just died.  Those in the garden in raised beds and with better drainage came through unscathed.  We grew the plain green-leaved Salvia officinalis in Eastern Washington, zone 4, and it did just fine, although it pretty much died back each (harsh) winter, but it was very dry there–must have made a difference.
6.  'Ruby Red' or 'Rhubarb' Swiss Chard (can handle some early spring and fall chilly weather, average moisture, full sun to part shade.  Size:  1-3 feet tall and wide, in clumps)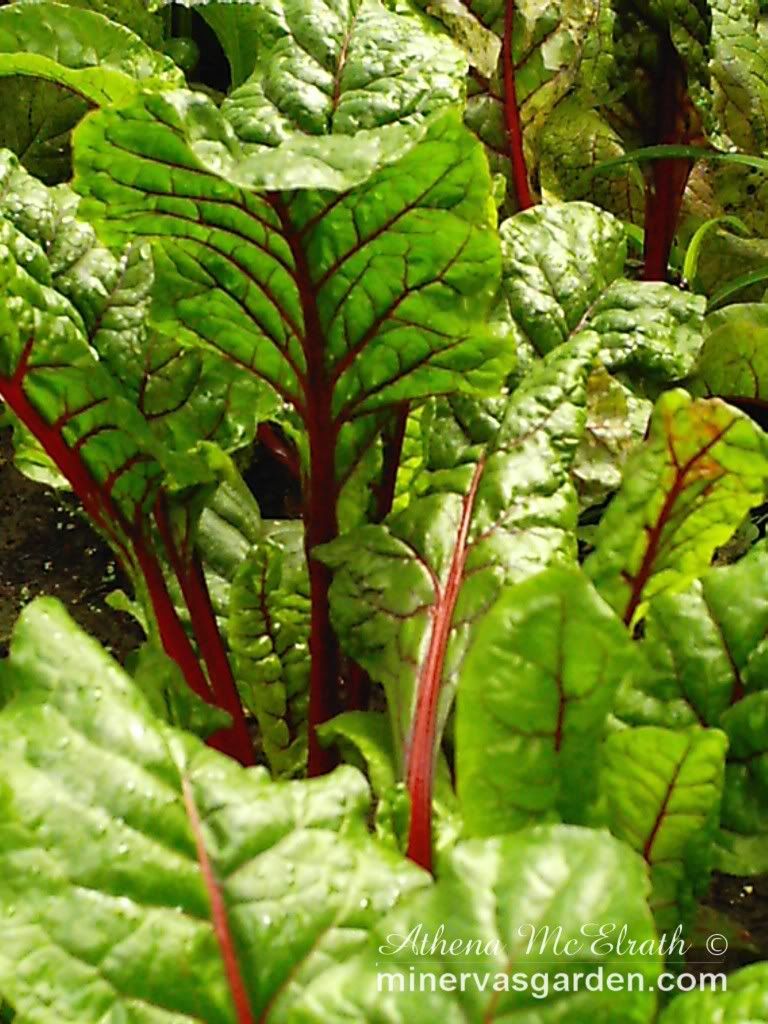 Why not colorful vegetables in a mixed border?  This stunning Swiss Chard offers color for a long season in the garden.  I start seeds outdoors in late March, we are eating it by early May, and it continues on until the winter cold wipes it out.  If grown under plastic, and sometimes even without it depending on weather conditions, you can grow it here all winter long as well.  You can pick the larger, outer leaves of a clump, and let the inner leaves continue to grow, to maintain the appearance if you grow it as an edging.  This is also a very pretty plant to feature in a container, to create an almost tropical-looking focal point in a border or on a sunny patio or deck.
7.  Lettuce  'New Red Fire' and  Radicchio 'Rossa di Treviso Precoce':  (Can grow in temperatures as low as 40 degrees, and prefers cooler temperatures for best growth, but lettuce does not tolerate frost while the radicchio can handle some.  Loves very fertile soil, and ample water.  Size:  These are both leaf lettuce-style plants, so 8-12 inches tall and wide.)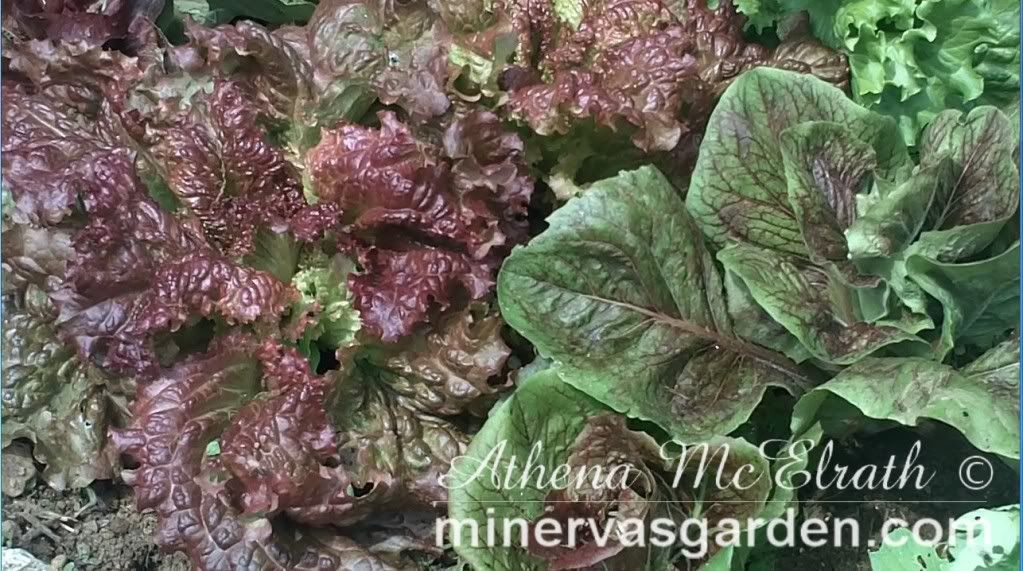 Lettuce makes a lovely border plant for the edge of a mixed border, or you can place it in containers and then strategically situate them in your beds.  These 2 varieties are favorites of mine–they have been reliable producers for several years now.  You can cut the lettuce head off, leaving an inch or two on the plant, and it will regrow, but over time it can get bitter.  You could pick large leaves from the outside of the head for quite a while, and keep the full appearance in your edging, or you can simply harvest the whole head, and replant with a new baby lettuce plant–you'll want to plant seed indoors in pots every 3-4 weeks so that you always have new starts for planting out when you need them.  I always start my lettuce and radicchio seed indoors under lights, and then transplant the starts outside when they are 4 inches tall or so–I haven't had good luck starting it from seed in the garden, but your results may vary depending on climate and growing conditions.
8.  Honeywort  (Cerinthe major 'Purpurescens', moist yet well-drained soil, takes full sun to part shade.  Size:  1-2 feet tall and wide)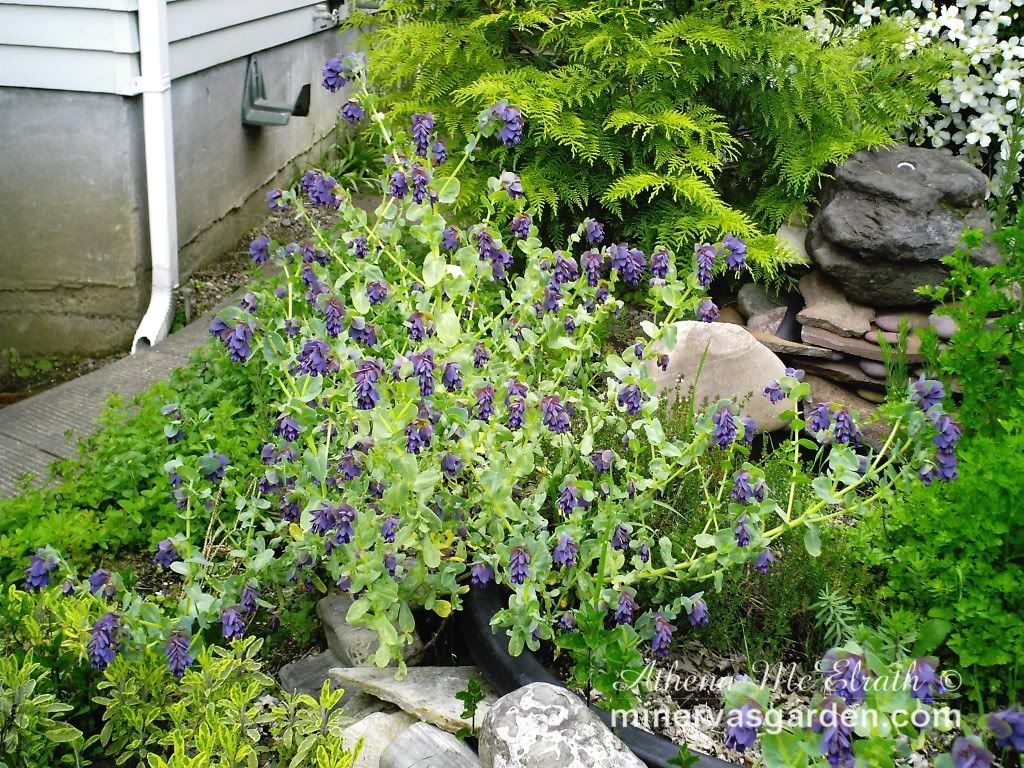 A favorite plant in my garden.  I love the lightly turquoise color of the foliage on this plant, which lasts from spring until fall, and then you get contrasting purple flowers on the ends of the stems!  Very pretty planted next to a yellow-colored plant, such as the variegated sage and gold evergreen foliage in this photo.  Hummingbirds and bees love this, and it reseeds on its own, but not invasively, around the garden–I just dig up the babies while they are small in the spring and plant them where I want them.  They don't transplant very well if the starts get too big.  Beautiful in containers and hanging baskets as well.
9.  Golden Hops (Humulus lupulus 'Aurea', zone 4-9, moist but well-drained soil, full sun.  Size:  big–expect this to grow 12-20 feet each season)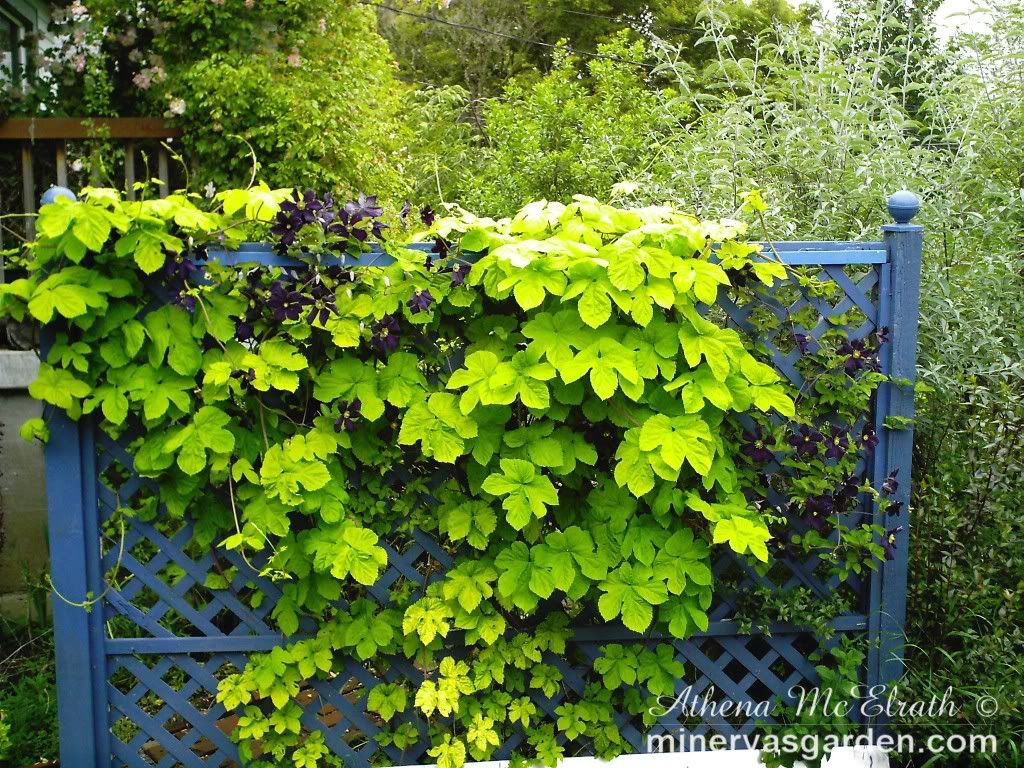 A very bright vine, if you have room for it.  This is growing on an 8-foot wide trellis, with 4X4 posts on either side to hold it all in place; I wouldn't recommend anything smaller due to the size of the vine.  It dies all the way back to the ground in winter, then in early spring dark vines start to appear, and later in the spring the glorious chartreuse leaves, which last until fall.  On this turquoise trellis, I grow it with a 'Romantika' clematis–the yellow centers on the dark purple clematis blossoms echo the chartreuse of the vine's leaves.  Hops do love full sun, so keep that in mind when you are selecting a spot for one.  Perfect for growing rapidly to block a view or to create privacy for outdoor living spaces.
Hope you find these plant picks helpful when you are looking for a great colorful foliage plant for your garden!
For the animal lovers among you, you might enjoy a post I did over the weekend after talking to my brother, a rancher and all-around Renaissance cowboy in Eastern Washington State–Mule Tips! (I'm sure you'll want to meet my brother's mule, Mulysses S. Grant, and his equine friends!)

If you liked this post, please subscribe to Minerva's Garden via email or RSS, Like us on Facebook, and Follow us on Twitter.  
Till next time, 
I'm participating at:
One Project At A Time At A Bowl Full Of Lemons
Tuesdays Cowgirl Up! at Cedar Hill Ranch
Outdoor Wednesday at A Southern Daydreamer
Cottage Garden Party at Fishtail Cottage
Flaunt Your Flowers /  Fertilizer Friday at Tootsie Time
Feathered Nest Friday at French Country Cottage
Inspiration Friday At The Picket Fence
Flowers on Saturday at Blueberry Craft And Hobby Blog