Happy Monday, everyone!  I hope your weekend was fabulous.  Ours was–spent again at the theatre all weekend, still working on my Shakespeare audition piece, and was able to share it with my acting class and get some great feedback on it.  I'm looking forward to the audition, but I still have to do and print up a new headshot this week, so another busy week in store.
I've got our little sideboard that we have behind out couch for your today, all decked out in Valentine's finery.
I decided to keep it super-simple, and use items I found while out thrifting or inexpensive supplies from Dollar Tree.  The ivory fabric is actually a table runner from Dollar Tree, and the floral fabric I've had forever in my stash.  I used part of it to cover the old bulletin board in my office, and I just love it.  The white plate, cake stand and cloche all came from Goodwill over the course of last year's shopping expeditions.
I decided to fill the cloche up with big, fat ribbon spirals.  The red rose ribbon came from Dollar Tree, and the center red and rose tapestry-looking ribbon was a Christmas gift from my Mom.  To me, it looked perfect for either Christmas or Valentine's Day, so into the cloche it went!
The pretty white container holding the red silk Dollar Tree roses came from our local antique store, and I paid around $7 for it. The pink rippled plate under it is part of a set that includes a pretty pink glass bowl, and it came from Goodwill from several years ago–I'm sure I didn't pay more than $4 or $5 for the pair.  I've been on the lookout for more containers the shape of the white one–sort of low, squatty and oval, because I like to use them for flower arrangements all year long, but especially when I've got fresh flowers from my garden.
Did you do some quick decorating projects for Valentine's Day?  Tell me all about it down in the comments!
If you liked this post, you can subscribe to Minerva's Garden via email or RSS, Like us on Facebook, and Follow us on Twitter, and connect with us on You Tube, Pinterest and Google +.  You can also follow us on Linky!
Thank you so much for your friendship and support–I appreciate it!
Till next time, 
I'm participating at:
Metamorphosis Monday at Between Naps on the Porch
It's Party Time at Setting For Four
Be Inspired Link Party at Elizabeth & Co.
Wow Us Wednesday at Savvy Southern Style
Home and Garden Thursday at A Delightsome Life
Tutorials, Tips and Tidbits at Stone Gable
Home Sweet Home party at The Charm Of Home
Catch as Catch Can at My Repurposed Life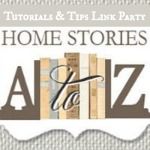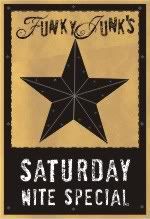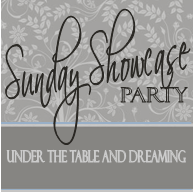 Be Inspired Friday at Common Ground